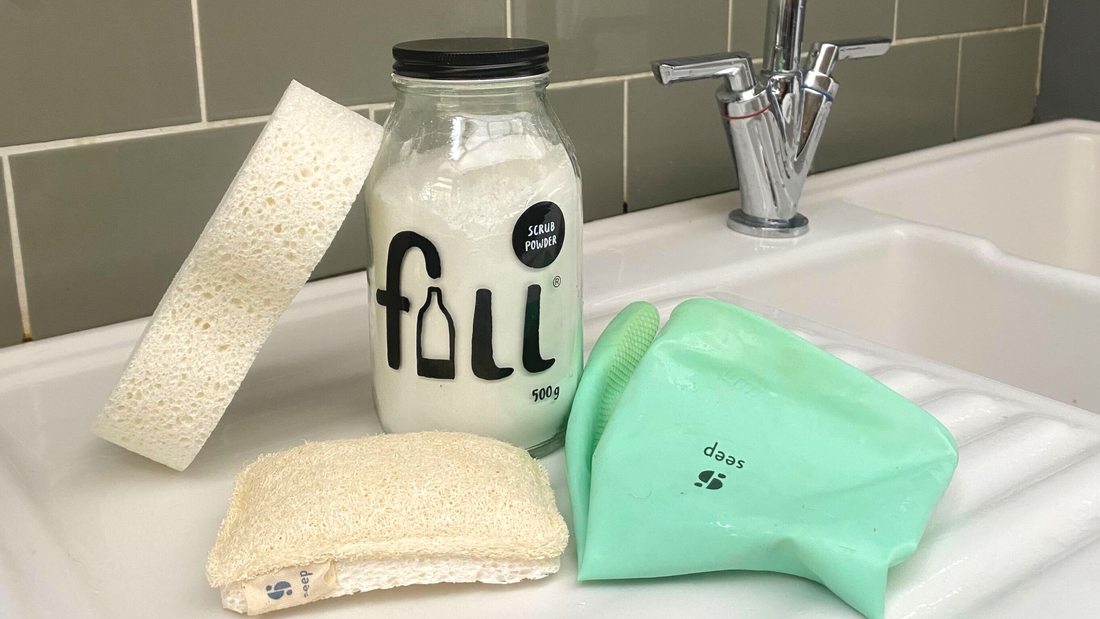 Imagine this - it's a magical night, the stars are twinkling and the streets are quiet. You're getting ready for dinner, about to cook your favourite dish. The table is set, music is playing in the background and you can't help but dance along. You bring out a large pan to cook in and start sizzling your chorizo but it instantly start spitting! No, your beautiful white top has oil splattered on it…

Time to panic? Nah! You've read Seep's blog on how to remove oil stains from clothes with the help of Fill Refill all natural products. 

Step 1 - Act fast! You don't want that stain to seep deep (😜) into the clothes and end up on the other side. 
Step 2 - Use a clean and dry Seep sponge to soak up any excess oil or grease. In this case the Dogbone Sponge could be the true saviour of the disaster but the Eco Scourer Sponge will work as well. 
Step 3 - Make sure to not make the garment wet until you've treated the stain, water could make the stain spread. 
Step 4 - Pour Fill Refill laundry liquid or a tsp of Fill Refill laundry powder on the stain. Gently massage it into the affected area to help lift the grease. You could do this with a toothbrush for more effective work. Leave the liquid on for 5-10 minutes. 
Step 5 - Wash the garment as normal using Fill Refill Laundry Liquid or Powder Direct for an effective and eco-friendly wash. 
Step 6 - For any type of stubborn stains that might appear in your life, Fill Refill Destainer Powder is the solution. It's a safe oxygen bleach that won't fade the colours of your garment but get rid of those stains. 

You do this by

pre-soaking

the garment in a mix of warm water and destainer. Or you could add

1 tablespoon

directly to the drum of your washing machine and detergent. 
Add powder to the empty drum first and then add your clothes - wash from

40 degrees

. 

Now you can go back to your dinner, be more cautious around the oil, and dance as much as you want to the music in your kitchen. No worries with Seep and Fill Refill, they're here to save the day! 

If you would like other tips to survive stains or dirt in the kitchen check out our Instagram. Have you spilled red wine? Or maybe there's wax stains in your carpet? All the tips and tricks you could ever need is found on our website, under the tab Seep Tips. 
If you're in need of some more cleaning tips check out Daily, Weekly, Monthly and Yearly Chores in the House or How to Wash Trainers with Baking Soda.