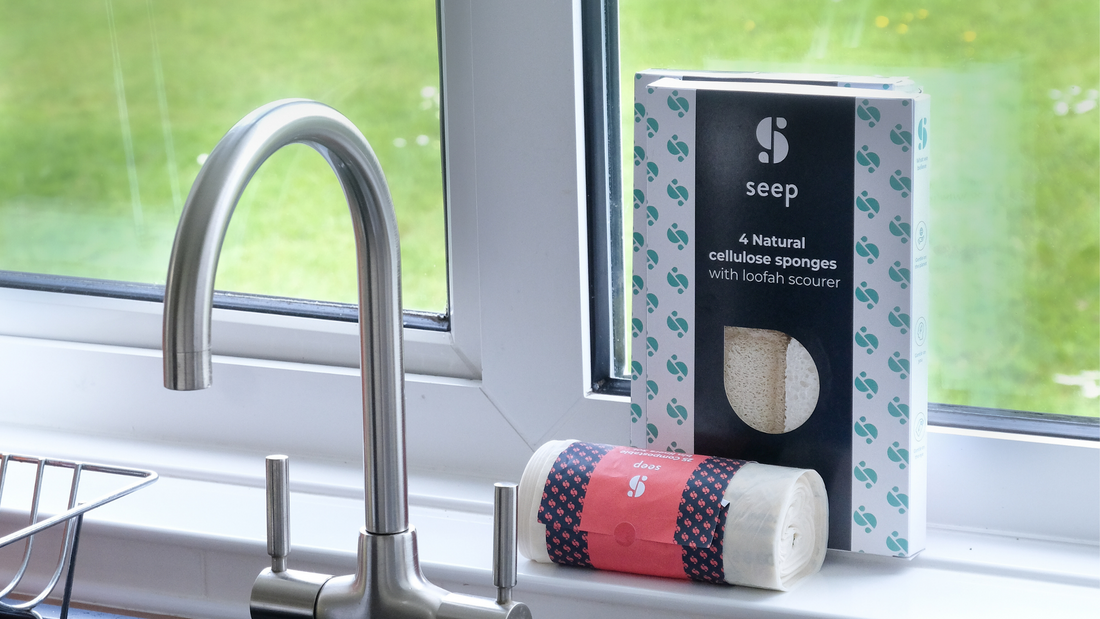 When your kitchen is at the point of no return, you know it's time to start pulling out all the conventional cleaning products. We're talking sponges, bleach sprays and brushes (just to name a few). Although these products work to clean your home within an inch of its life, you sadly become exposed to hundreds of chemicals. Some with unknown toxic effects. 
Over the last 18 months, there's been a lot of focus on cleanliness, personal hygiene and so the temptation to crack out the strongest cleaning sprays has been sky high. On the other hand,  more and more of us want more sustainable options. So what are the options when it comes to eco friendly house cleaning products and how do they stack up against the more traditional products available? Many people believe that "natural" or "green" automatically means less effective and, in a world where we value cleanliness more than ever, can the green cleaning industry really compete? Spoiler alert. We think so. 
What's the problem? 
The truth is, many conventional cleaning products harm our environment when they obliterate all the bacteria in our homes. If you use a cloth or sponge to wipe down surfaces, there's a high likelihood of microplastics and residual cleaning products headed into the waterways. Most chemical compounds in cleaning products like sprays and disinfectants are volatile organic compounds (VOCs) that can also negatively impact air quality both indoors or outdoors. 
Take generic plastic sponges as an example. Some are "antibacterial" which means that they are treated with Triclosan, a hormone disruptor that doesn't break down easily. This is classed as an antibacterial chemical, and excessive use can lead to asthma or autoimmune problems. These are serious health implications, for something that can be achieved with a natural cleaning alternative like soap, water and natural cellulose sponges which still kills most of the germs you need to worry about. 
So, while you may be getting a slightly easier clean with chemicals, there are countless negative impacts on the environment outside of your home. 
So… what's the alternative? 
And do they work? 
The great news is, although they may need an extra bit of effort, natural ingredients work amazingly well. The National Environmental Trust agrees that you don't actually need any chemicals to clean. Chemicals can make cleaning easier, but they don't make it better.  
There are homemade cleaning products in your cupboard you could use like vinegar, alcohol, lemon juice and bicarbonate of soda that you can combine with hot water. These are all natural disinfectants that work just as well as chemical-laden cleaning products, perhaps with a bit more elbow grease required.. 
There are also lots of eco friendly house cleaning brands out there that have figured out how to deliver great cleaning without harsh chemicals and plastic. Although these products often come at a higher price, they have tangible benefits for the environment and are better for your health. The really great news is that most eco friendly house cleaning products are really investing in their formulations to bring them up to par with top-rated conventional brands.
Here are some of our favourite eco-friendly cleaning products that we know work: 
You know a product works when it's used by cleaning professionals and businesses across the country. Delphis Eco cleaning products are powerful and much safer than conventional cleaning sprays seen in homes. They've pioneered the cleaning space for a number of years now, and for good reason. We particularly like their Limescale Remover.
Smol focuses on eco-friendly cleaning products like dishwasher tablets and fabric conditioners. We particularly like their dishwashing tablets and washing powder that you can buy on subscription with zero plastic packaging. 
If you've got sensitive skin, the Ecover Non Bio Zero washing powder works just as well as any other washing detergent out there. They are also widely available making them sustainable and convenient.
We love their fabric conditioner. It smells fantastic and does the job every time. It's also made in the UK and available in larger containers made from 100% recycled plastic.
Seep cellulose sponges with loofah scourers are made from 100% natural and renewable materials and are 100% compostable and plastic-free. Unlike most eco sponges, the loofah is sewn to the sponge meaning it's easier to scrub away those nasty stains. Order your eco-friendly sponges here. 
Bower collective have a selection of own-brand washing up liquids that are made to be refilled, recycled and reused. The liquid is made using ethically sourced ingredients like citric acid and sodium chloride and is manufactured right here in the UK. 
With gorgeous luxe branding, Spruce's starter cleaning kits include a reusable aluminium bottle and concentrated cleaning sachets that you dilute yourself. They make your room smell like a spa (think Eucalyptus essential oil aroma) and they do the job. We really love their bathroom kit.
The new kid on the block who offers subscription cleaning tablets that you dilute yourself at home to prevent shipping plastic bottles of water. We particularly like their Shiny Things for mirrors, glass and taps.
Here are some more resources for how you can help.
https://theseepcompany.com/blogs/the-seep-blog/make-your-kitchen-sustainable-with-the-green-domestic-fairy
https://theseepcompany.com/blogs/the-seep-blog/7-brands-to-help-kickstart-your-zero-waste-lifestyle
https://theseepcompany.com/blogs/the-seep-blog/reduce-your-plastic-footprint-in-2021-with-these-easy-swaps