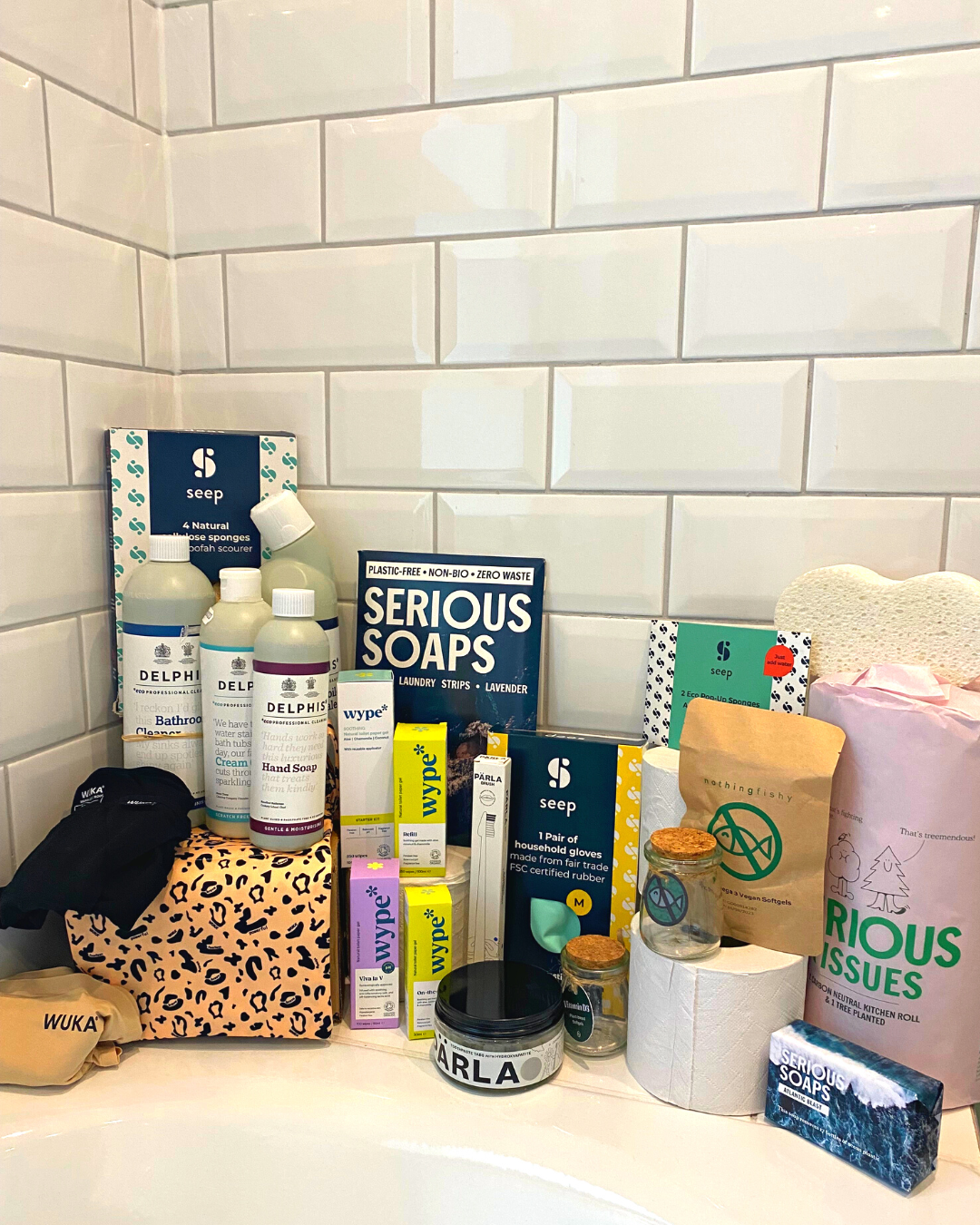 22nd April marks Earth Day, a time to take a step back and ponder on what we can do to protect and improve the beautiful floating rock that gives so much to us! 
This year, the theme is 'Invest in Our Planet', which can sound pretty scary. But what if it was actually simpler than it sounds (hint, it is!)? Investing in our planet is sometimes no more than simply investing in sustainable options for ourselves.
This Earth Day, we're looking at some amazing brands that can help you invest in your home, invest in your personal health, and invest in our planet by making eco-conscious decisions easy and accessible. 
 
Not all heroes wear capes, but they do use eco-friendly products to clean their homes, clean themselves and keep healthy! 
Wype 
Nature called, Wype answered. Turns out it was a booty call! Wype is the eco-friendly alternative to wet wipes that leaves your bits and bobs feeling clean, soothed, and moisturised without clogging up our pipes or polluting our oceans and watercourses. Wype's natural & organic formulas make your toilet paper work harder for you, for clean parts and a cleaner planet. Wype is giving single-use plastic the finger, with an infinitely recyclable aluminium bottle and a reusable applicator – not to mention it looks great on the bathroom shelf! Their vegan, COSMOS organic and cruelty free formula will have you smiling from cheek to cheek!

Seep 
Every minute of every day we bin 1,000 kitchen sponges, most of which are made from virgin plastic. Seep is on a mission to clean up the way we...well, clean up! Carrying out our daily household chores whilst keeping the environment in mind has never been easier with Seep's range of plastic free home cleaning products. Seep keeps you stocked up with everything but the kitchen sink to get the place spick and span! Oh, did we mention they're B-Corp certified? For a spotless house, a spotless conscience, and a spotless planet, opt for Seep! 
WUKA 
Want that Wake Up Kick Ass attitude 24/7? Well, that's literally what WUKA stands for! They believe that nothing should hold you back when you're on your period, and their reusable period pants make sure of it! WUKA is challenging the 200,000 tonnes of disposable pads and tampons that are sent to landfill each year in the UK. Not only are they making sustainable, plastic free period products accessible and obtainable, but they're also challenging the stigma around menstruation by sharing stories of real people, talking about stigmatised topics & creating comfortable, reliable period and everyday underwear.  

NothingFishy 
There's nothing fishy going on with these plant-based supplements! Made from ethically extracted algae oil, Nothing Fishy's supplements offer maximum support for your overall health, all while protecting and respecting our oceans. With ingredients sourced away from the sea, you'll be able to give your body all the goodness it needs without disrupting delicate oceanic ecosystems. Plus, with their discounted refill subscription service, you can make sure that you're taking your vitamins consistently for the best results. Their refillable glass jar looks just as good in your bathroom cabinet as their supplements make you feel!  

Delphis Eco 
Delphis Eco creates powerful eco-friendly cleaning products with the protection of aquatic life at the forefront of what they do. Their products are strong enough for the toughest dirt, safe enough for the gentlest hands, and green enough to protect the world. Delphis believe that you should never have to make the choice between yours or the planet's health and a sparkling clean home, so they've made something that takes both into account! Their packaging is made from 100% recycled milk bottles, (and they're recyclable still!) so you can rest assured you're making eco-conscious decisions when cleaning up what life leaves behind. 

PÄRLA 
Our pearly whites shouldn't have to cost the planet to shine bright.  PÄRLA is making sure of this by turning a tube of toothpaste into conveniently tiny toothpaste tabs, PÄRLA have created an eco-friendly solution to the 20 billion tubes of toothpaste that end up in landfill or our oceans every single year. Founded by dentists, the brand is driven to create cruelty-free, vegan and plastic-free oral care products without compromise. Even better, their dehydrated toothpaste tabs are made in the UK, which means a significantly reduced carbon footprint. Smiling has never felt better than with PÄRLA! 

Serious  
What if you could plant a tree just by wiping? What about removing plastic from the ocean when you do your laundry? Well, do the team at Serious have news for you! Roughly 1 million trees are cut down everyday to make toilet paper, and Serious is on a mission to say goodbye to those gruesome figures by planting one tree for each roll bought. Their toilet paper, kitchen roll and facial tissues are made from 100% recycled paper, all tissue no issue! They've also expanded their range to laundry detergent, where they remove plastic from the ocean with each purchase. Now that's some Serious stuff!