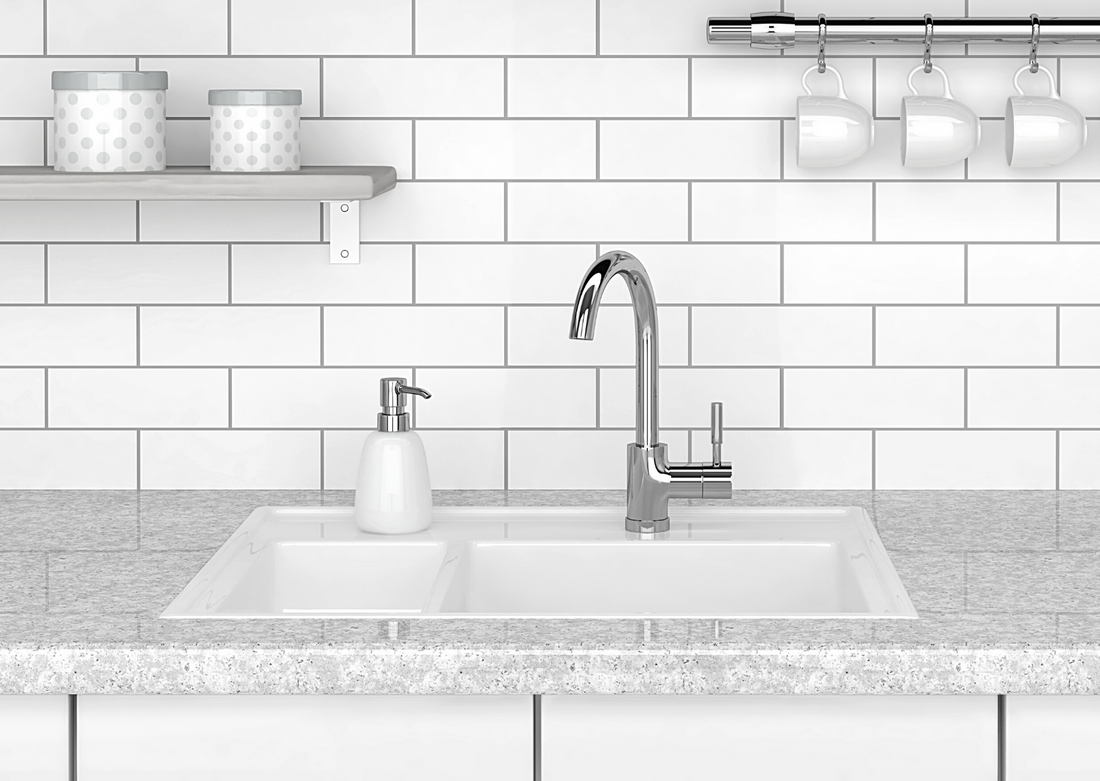 Today on The Seep Blog, we're tackling those nasty single use plastic cleaning bottles by swapping them out for something you'll already have lurking in the cupboards: Baking Soda. Did you know that 55% of UK plastic is still ending up in landfills, incinerators or in the environment? Urgh. If that's not enough to encourage you to make some serious swaps in your home, we don't know what will. There are plenty of opportunities (besides investing in compostable cleaning products) to get rid of plastic in your kitchen for good with some simple swaps. So, if your sink is looking a little on the grimey side and you're feeling inspired, here's how to clean your kitchen sink with baking soda.
Cleaning Sink With Baking Soda
Step Two
All you need to clean your sink with baking soda are the following: 
Baking soda

Sponge or cloth (🙏  Seep preferably!)

Vinegar
If you're feeling creative, you can throw some lemon slices and olive oil into the mix. However, these really aren't necessary! 
Step One 
Quickly rinse out your sink, removing everything in the way like dishes and food scraps. Then, give the entire sink a generous sprinkling of baking soda, including the sides. You can either do it in spoonfuls or just shake the box directly over the sink. Dampen your sponge and, using the soft side, start to scrub the basin in circular motions (our sponge with a loofah scourer would be perfect for this). Baking soda isn't too coarse, so it will clean without scratching your sink (if you're worried about scratches, swap your sponge out for a cloth). 
Step Two 
Use the vinegar to rinse the sink and you'll see it react with the baking soda (you'll get a bit of bubble and fizz here!). The vinegar will work to dissolve the baking soda and any grease that may have been picked up. Vinegar will also naturally disinfect the sink, keeping it germ-free for the foreseeable. Make sure to pour enough vinegar to dissolve all of the baking soda in the sink. 
Make sure to rinse the sink thoroughly with warm water afterwards. Letting any of the baking soda or vinegar dry on the sink could cause it to streak - and undo all of your hard work! Warm water will also help any remaining baking soda dissolve into the drain.  
Step Three 
Use a clean and dry cloth to wipe down any remnants from the sink and dry it off (our all-purpose loofah cloth works well here). Ensure there are no streaks or spots left as these can stain your sink. If you're feeling particularly luxurious, take a slice of lemon (or any citrus fruit) and rub it over your sink. This will help your basin keep its new baking soda shine for longer (perfect for those who despise cleaning the sink). After this process, your sink should keep it's beautiful and natural shine for several weeks! 
So, there you have it. Cleaning sink with baking soda has never been easier and more gentle on the planet. Send us your time lapse videos or pics of your baking soda sink cleaning and we will feature the best on our Stories.
To compliment your newly eco-friendly kitchen, shop our Seep sponges and cloths today.