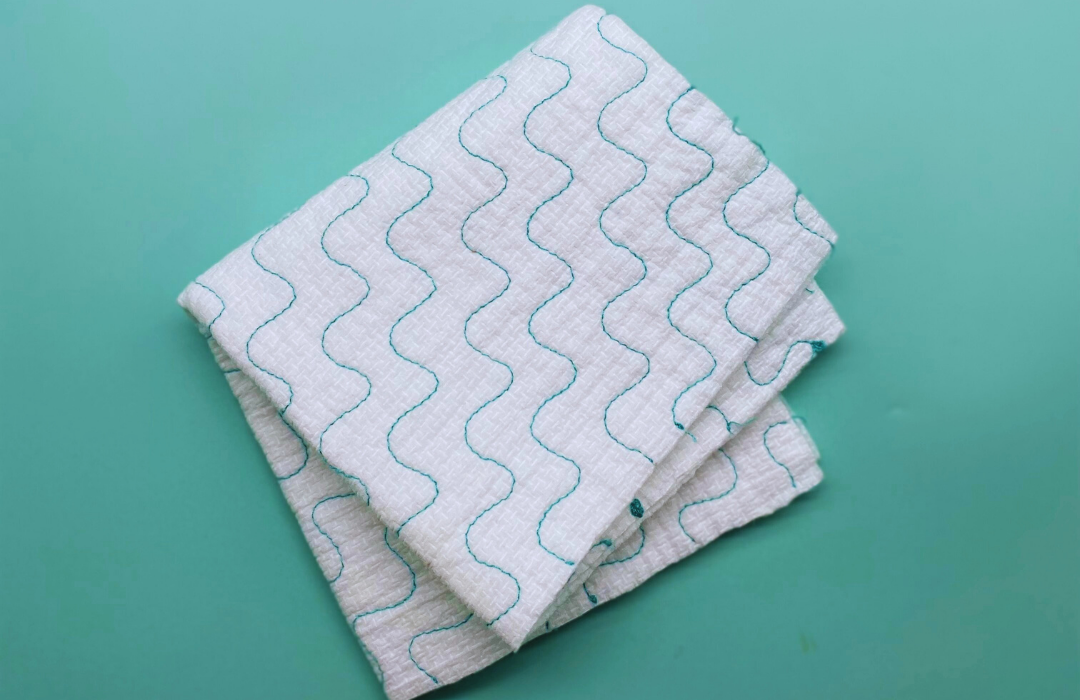 ReLondon work with government, business, citizens and communities, helping everyone to waste less and reuse, repair, share and recycle more. As a small organisation they empower, inform and collaborate with others who have the capacity to make real impact🌎
Last year we were awarded a grant from ReLondon, administered by their Business Transformation Programme and funded by the mayor of London's Green New Deal Grant🤝 Here's what we did with it👇
THE CHALLENGE
We wanted to develop and pilot new innovative products, starting with a fully circular, more ethically sourced and a better performing alternative to a market leading microfibre cloth🌿 These microfibre cloths are a huge and growing market (which is ~ £70m per annum in the UK) and all are made of polyester, not circular and are responsible for large amounts of microplastics being released into the environment. 
The key challenge was how to replicate the physical and technical performance properties of a microfibre cloth (absorbency, tensile strength, stability) in a compostable substrate, made from all-natural fibres with a lower carbon footprint AND be affordable and commercially viable. 
Following the successful launch of this pilot, the plan was to scale up production and then launch the new cloth as a cornerstone product in a new range😍
THE RESPONSE 
We believed that their eco-conscious customers, who want to make more sustainable choices, are looking for an alternative to a microfibre cloth that is as good in terms of function and affordability and will help reduce their reliance on plastic-based products. 👯‍♂️
In October 2021, we submitted a proposal of the idea to ReLondon's circular pilot grant scheme. We were pleased to be able to offer them a circular pilot grant of £10,000, thanks to the Mayor of London's Green New Deal fund, to support us in bringing our idea to life🙏
We then undertook a rigorous pilot that was informed by our knowledge of the target market and supply chain contacts. The trial ran from October 2021 to March 2022 and in that time, we were able to:
👏Source a novel nonwoven fabric made from natural, sustainable cellulosic fibres
👏Engage a local embroidery studio in the UK to produce trial batch of products. We produced 2 versions – 2-layer and 3-layer, both of which were tested in the pilot
👏Via Instagram and our existing email database, we engaged with up 100 volunteer end users to trial the products from Dec 2021-Jan 2022, setting parameters for use and follow up with a feedback form after 1 month of use and rewarding people for their time
👏In parallel, sent the product to a testing lab in the UK to test for performance properties (absorbency, tensile strength and washability), to compare with that of a market leading microfibre cloth that they wished to displace
👏Undertake and analyse customer survey/feedback form on product performance and customer satisfaction to inform further product development and pricing

THE OUTCOMES

The pilot has been successful in demonstrating the technical viability of an alternative to a polyester microfibre cloth, and the fact that it is attractive to the target market.
64/100 of our wonderful volunteers returned the questionnaire😎 All the feedback was positive and provided constructive insights for future product placement and pricing. 85% of the respondents scored the 3-layer cloth 4* or 5* in terms of satisfaction.

The technical report from the lab confirmed the performance of the cloth to be equivalent to, or better than the competition, depending on individual criteria (including absorbency, strength, washability). Interestingly, the 2-layer cloth performed slightly better than the 3-layer alternative🤗
The big challenge now is securing an appropriate manufacturer in the UK (or further afield) to work with on full scale production. This will be critical in determining the commercial viability of the new cloth going forward.

In 2022, we plan to expand into further categories within the household essentials market and acquire our first supermarket listing🥳

ReLondon's business transformation team continues to help small-and-medium sized businesses in London adopt the circular economy through their advisory support, grant schemes, and matchmaking services. Find out more about ReLondon on their website.