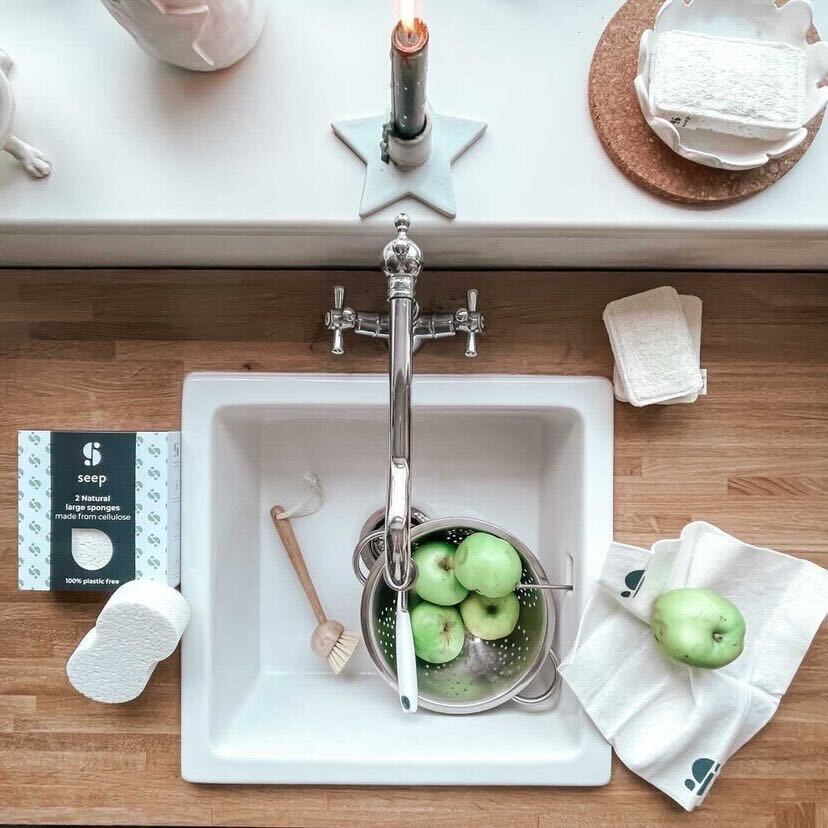 A question we get asked a lot at Seep is 'why are your products more expensive?' or 'why would I buy from Seep when we can get the same for half the price elsewhere?'. These questions are very valid, as we totally understand it can seem costly to make these more eco friendly swaps, and almost seem unachievable to live a more sustainable lifestyle. P

lastic will always be the cheapest option, but the environmental cost is much,

much

greater.
Mel, Seep's buying manager, talks us through the rigorous process she goes through when designing our products to ensure all of our products are better for people and the planet and why this presents higher costs but at a lower cost for the planet.
1. Quality Materials
What makes Seep different from traditional household brands is how we think about circularity when developing new products♻ Typically, a product life cycle is defined as "cradle to grave": items are used, then disposed of. But at Seep we know there is no such thing as cradle to grave, because every single plastic sponge and cloth lives on and continues to pollute the planet, even after it is thrown away. Instead, we create products with "cradle to cradle" in mind. Quite literally, our products 'seep' back into the earth and leave no harm🌿 So, when sourcing materials, we work backwards. We prioritise renewable sources, materials that are compostable, long-lasting and think about "how will customers dispose of this product at the end of its life".
This means sourcing higher quality materials that are certified, such as:
FSC/PEFC-certified wood pulp
TUV Compost Home
GOTS-certified organic cotton
FSC-certified bamboo
Fair Trade rubber
2. Product Innovation
Our customers are integral to our mission of putting people at the heart of our business and building Seep to be the type of brand we want to buy from👨 We regularly enlist the help of our community and send out surveys to gather customer feedback - please, look out for the next one, tell us what you want us to launch next and help to contribute to the future shape of the range!
Our aim is to revolutionise the household essentials category for the good of people and planet🌏We are committed to providing customers with plastic-free sustainable swaps at home. I want to replace every single plastic cleaning tool in your house with a sustainable alternative! I also want to make more eco friendly products accessible, where in the past they have been considered a privilege. If there is a product at home I use a lot, I think how can I make this plastic-free, compostable, accessible and Seep-ified.
A big part of my job role is keeping on top of emerging market trends and researching material innovations, which then feeds into product development. For example, a huge amount of investment and research into bioplastics is currently being undertaken, contributing to the emergence of compostable plastics, which seeks to reduce our reliance on fossil-based plastics. This shows the direction of travel, in light of COP26 and the climate emergency, particularly for plastic packaging. 
We also work with a sustainability and materials expert, Brooke Roberts-Islam, to guide us on future product development. Brooke has been hugely involved in the development of our new cloth, with which we won a grant from the Mayor of London as part of his Green New Deal. Her guidance means that our cloth will be innovative
and
sustainable, capturing the science behind the material.
3. Material Sourcing
I will always try to source as close to home as possible, where accessibility of materials and manufacturing processes permit. This keeps our carbon footprint as low as possible, whereby freight and transport is reduced👣
However, some materials are only grown in tropical climates, such as bamboo and sisal used to make our Bamboo washing up brush🎍 I am not ashamed to admit we source a small portion of our range from China; we actively seek to work with partners for whom sustainability practices are prioritised and at the core of their business. Our sourcing policy is to work with kindness and in collaboration with our suppliers to build long-lasting, innovative relationships.
We also endeavour to support local industries, and our natural rubber gloves are made in Sri Lanka, whereby rubber tapping is a huge and widely-respected industry. Our supplier is one of the largest manufacturers in Sri Lanka, with over 17.5 acres of plantations. They have the highest standards of quality certification including FSC and Fair Trade. We are extremely proud to source this product directly from Sri Lanka and support the local economy. 
Likewise, the textile industry is central to India's economy. Our GOTS-certified organic cotton tea towels and shopping bag are grown without pesticides in India. This contributes to healthier soil and acknowledges and celebrates the farmers and growers in the supply chain. 
4. Fair Trade
We only work with factories that are BSCI or SMETA audited. BSCI is the social monitoring system for ethical sourcing. It provides an audit framework for the social conditions within the factory and helps companies to improve working conditions in their supply chain.
This ensures that there is no child labour, forced labour and local wage laws are complied with. SMETA follows a similar social responsibility audit. We also look for suppliers who are ISO accredited, in particular ISO 9001 which ensures quality standards are met within the factory. 
We are a young company and learning all the time, but we take our role as a responsible brand
very
seriously and continue to hold ourselves to account. Earlier this year we resourced one of our best-selling products to a new factory that is BSCI audited and has a quality management system in place. This meant our product cost went up, in which the costs of labour and materials are included, and we have absorbed this cost as much as possible for our customers.
It calls to question brands that can afford to discount heavily; I highly recommend a podcast called Remember Who Made Them that supports and celebrates the labour and dignity of garment workers across the globe. It is becoming increasingly important to our ethically-minded community that we are transparent and our suppliers must be willing and able to share supply chain information, including their direct suppliers.