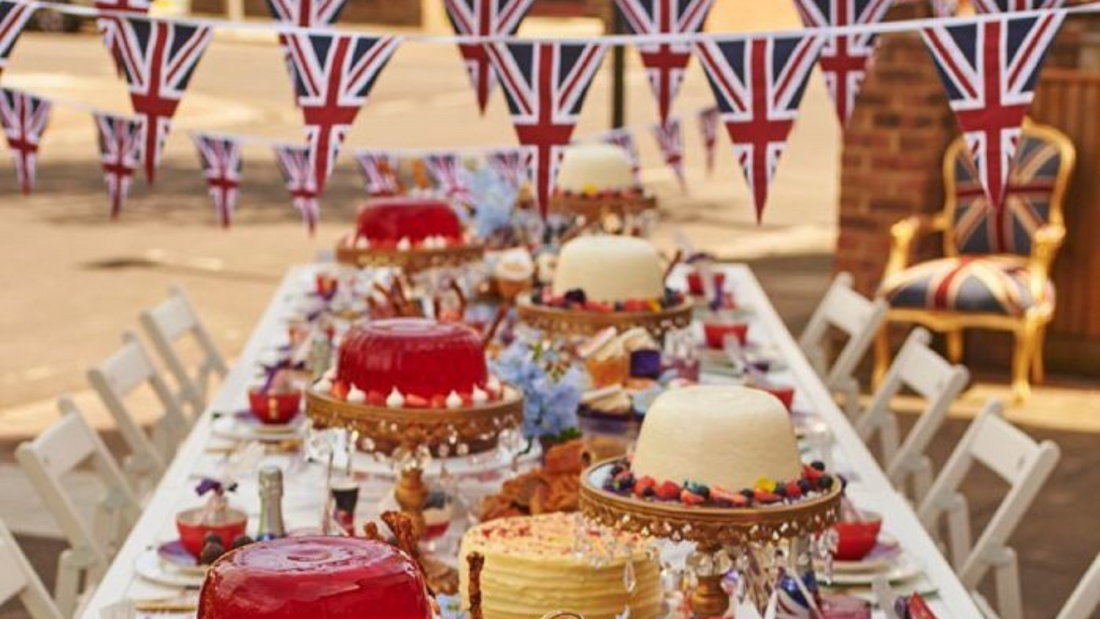 With the Queen's Platinum Jubilee fast approaching – houses will once more come together and put on street parties never to be forgotten – how incredible is our amazing Queen?
As with most parties – there can be a lot of waste. With a big spotlight on sustainability and reducing waste – we've got some top tips on how you can throw an eco friendly party to celebrate Her Majesty's amazing achievements in true British form whilst keeping sustainability at the forefront.

1. Barricade with Wheely Bins 💁‍♀️
Rather than taping off your road with plastic ticking tape, club your wheely bins together for the section of road you wish to cut off to create a barricade. They may as well be put to use, but don't forget to write your house number on yours – some people can get very protective over their bin! 

2. Food Glorious Food  🥗
Food waste is massive at parties with most people over catering. Rather than a few people catering for the whole street or multiple houses, get each house to be responsible for bringing their own food and ask them to think about the quantities that they need. People can still be creative with their food without having the need to over cater. Little is better for an eco friendly party!  

3. Flying the Flag🙌

A street party wouldn't be a street party without copious amounts of bunting dancing from house to house across the street. Rather than buying in plastic ready-made bunting, save up old birthday, Christmas cards and use the blank side to create your own bunting. Get the kids involved and ask them to help decorate…could pass a lot of time!

4. No Crockery Crooks
It's very hard to tell people what to do here, but rather than buying in plastic or indeed paper crockery – I have a couple of suggestions. Either use what you have already in your house – yes that means your everyday crockery or use the kids plastic fantastic / melamine unbreakable stuff. If you are ok to spend a little more on your eco friendly party, then look at getting in some biodegradable plates and cups, but things for sure – no crockery crocks are allowed! 

5. Litter Pickers🤴

Not only will flags be flying, but so will rubbish. It's a good idea to have some people on hand to do a quick walk about to pick up any 'lost' rubbish. All saves on time at the end of the party when people will want to be heading back to their homes.
6. The Big Clear Up! ✨

Allocate people to clear up once the party has finished and give them compostable bin liners – like our Seep Biodegradable Bin Bags. Each person or group should be allocated recyclable rubbish, general waste and food. If people don't have a compost bin in their garden, then the food waste can be taken to the local food waste collection points.